6. - 7. November 2019
Vila Lanna, V Sadech 1, 160 00 Prague 6 - Bubeneč
Program (pdf)
Wednesday 6.11.2019
Time

Program

10:00

Registration

10:30

Opening words

11:00

Holger Kantz

Max Planck Institute, Dresden

Power law error growth in multi-hierarchical chaotic systems – a dynamical mechanism for finite prediction horizon

11:45

Dimitris Kugiumtzis

Aristotle University of Thessaloniki

Dimension Reduction for Causality in High-dimensional Time Series

12:30

Lunch

14:00

Lionel Barnett

University of Sussex

Granger Causality and Nonlinear Dynamics - A personal perspective and some future directions

14:45

Bjarte Hannisdal
Kristian A. Haaga
David Diego

University of Bergen

Making transfer entropy work: new causality methods for short and noisy time series

15:30

Coffee break

16:00

Jakub Kořenek

Czech Acad. Sci

Causal Network Discovery by Iterative Conditioning

16:25

Anna Pidnebesna

Czech Acad Sci

Brain Network Analysis By Mixture Component Inference Deconvolution

16:50

Martina Chvosteková

Slovak Acad Sci

Testing linear Granger causality

17:15

Coffee break

17:45

Kristian A. Haaga

University of Bergen

Using CausalityTools.jl on time series with uncertainty

18:30+3h

Reception
Thursday 7.11.2019
| | | | |
| --- | --- | --- | --- |
| Time | Program | | |
| 9:00 | Coffee morning | | |
| 9:30 | Anna Krakovská | Slovak Acad Sci | Causal analysis in reconstructed state spaces |
| 10:15 | David Hartman | Czech Acad Sci | Nonlinear obstacles in construction of stock networks |
| 11:00 | Coffee break | | |
| 11:30 | Alejandro Tejedor | Max Planck Institute, Dresden | Diffusion Dynamics on Directed Multiplex Networks: The emergence of an optimal coupling and a new regime of superdiffusion |
| 11:55 | Maryam Zamani | Max Planck Institute, Dresden | Evolution and Transformation of Knowledge over the Sphaera Corpus: A Network Study |
| 12:20 | Benjamin Wahl | University of Oldenburg | Granger causality of diffusion processes - effects of non-linearity and non-trivial noise |
| 12:45 | Lunch | | |
| 14:15 | Milan Paluš | Czech Acad Sci | Causality, time scales and time reversal |
| 15:00 | Coffee break | | |
| 15:15 | General discussion | | |
| 16:15 | Final remarks | | |
| 16:25 | Meeting closed | | |
Abstracts
Book of abstracts can be downloaded
here
.
The Venue
(1)

Main Venue - Vila Lanna, V Sadech 1, Prague 6 - Bubeneč (map)

(2)

Lunch - Restaurace na Slamníku (https://www.na-slamniku.cz/), Wolkerova 12, 160 00 Praha 6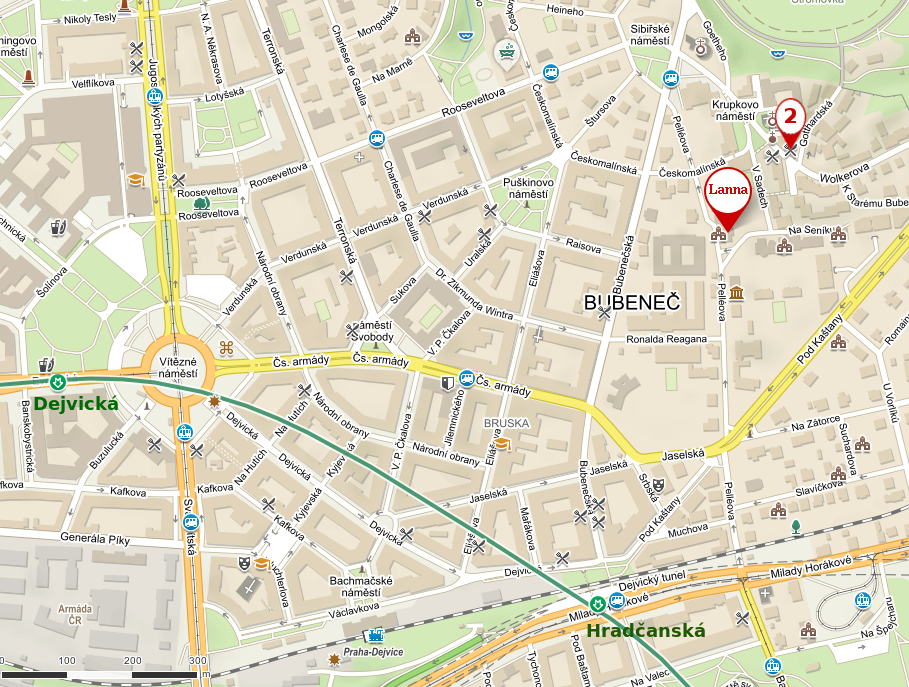 Travel information
The public transport is recommended. It is quite reliable and safe, with the following prices (EUR 1,- = cca. CZK 26,-):
basic – 90 minutes with the possibility to change tram/bus/underground: CZK 32,-
short-term – 30 minutes with the possibility to change tram/bus/underground: CZK 24,-
non-limited 1-day ticket – CZK 110,-
non-limited 3-days ticket – CZK 310,-
You can buy tickets in slot machines in the underground stations, in most newsstands, specialized public transport shops, Prague transport information centers at the airport and main railway station. You can use this link for searching public transport connections:
spojeni.dpp.cz/ConnForm.aspx?cl=E5
. The closest underground stations to the main Venue are "Dejvická" (green(A) line) and "Hradčanská" (green line).
By plane
The comprehensive info how to travel from/to Václav Havel Airport ("Letiště Václava Havla") can be found at
www.prg.aero/en/transport-airport
. You can either take an airport taxi (it should cost about CZK 600,-) or use public transport, which is way cheaper (and safe as well): take the bus line 119, direction Nádraží Veleslavín ("Veleslavín train station") and change there to the underground green line A (direction "Depo Hostivař"), geting off at the station "Hradčanská" will bring you close to the main venue (10 min walk). The journey takes ca. 45 minutes in total.
By train
All the long-distance trains arrive to the main railway station ("Hlavní nádraží"), where you can find underground station connecting you with the rest of
public transport
system as well. You can get close to the venue by taking the red line C to the station "Muzeum", there change to green line A, which will take you to the station "Hradčanská".
Local organizers
Jaroslav Hlinka (hlinka@cs.cas.cz), Barbora Buckova, Pavel Sanda.
Institute of Computer Science Czech Academy of Sciences, Pod Vodarenskou vezi 2, Prague 8, 182 07, Czech Republic
Funding
Supported by the Czech Academy of Sciences through Strategy AV21 by the program Hopes and Risks of the Digital Era.